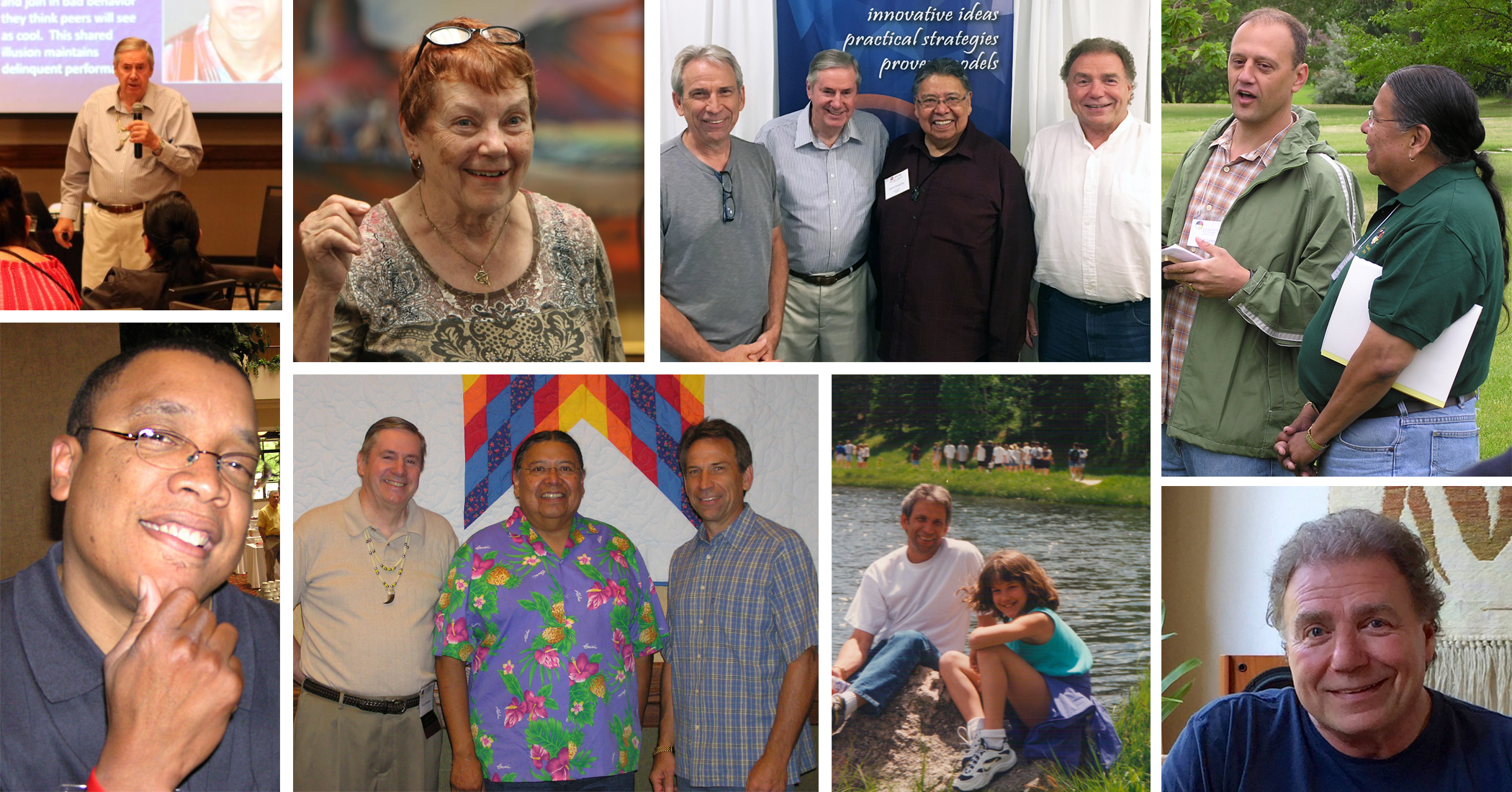 2018 BHS Presenters and Topics
Stacy Altrup, Wentzville School District
The Art & Science of the Possible
When we believe in children it changes everything. This workshop will share with you the ideas, concepts, and strategies we have developed to help children of all abilities take ownership of their own self-regulation, their own self-development, and ultimately their own learning.  Our program has changed the mindset of child education to provide a revolutionary approach to some of the most challenging behaviors within an educational setting. It is through this cultural shift, based on the foundations of trust and relationship, where children are taught to mindfully regulate their thoughts and their bodies. Once a trustfully-based relationship is established, a child is then ready to explore the 10 Elements of our MInD Development approach where they become more motivated to learn and stay in school.  
Larry Brendtro, PhD, Reclaiming Youth at Risk
Planning Restorative Outcomes: Assessment of Strengths and Needs
Reclaiming Youth at Risk introduces this new online and on-site training which engages youth as primary experts in planning their growth and transformation. Traditional assessment documents deficit and disorder. The focus of PRO Assessment is on meeting Circle of Courage needs in order to build resilient life outcomes. These strategies are being used in education, treatment, juvenile justice, and youth work settings. 
Reclaiming Youth Worldwide
Creative strength-based approaches are impacting schools and treatment settings serving children and youth at risk in many nations. Larry Brendtro will be joined by colleagues from Germany and  England. Beate Kreisle is a leader in bringing the Circle of Courage and Positive Peer Culture to Germany where she directs Jugend Kolleg am See, an adolescent group treatment program. Ceri May heads the Anchor Project in a high-needs addressing the emotional well-being of children and youth in a high needs area of London and recently presented this model in an exhibition for the Houses of Parliament. Larry Brendtro will highlight the new training program Respectful Alliances which builds positive climates in schools, treatment, and justice settings.
Annie Brokenleg, Juvenile Detention Alternatives Initiative (JDAI) 
Strategies to Reduce Racial and Ethnic Disparities in the Juvenile Justice System
Youth of color are overrepresented at almost all decision points in the juvenile justice system. Annie Brokenleg has worked across South Dakota to address this complex and important issue. Participants will learn strategies to tackle this issue in their own communities in whatever system they are involved.  Juvenile Justice workers alone cannot solve this problem. All systems that youth come into contact with need to be brought to the table to create a more equitable justice system for youth.   
Forgiveness and Reconciliation
In Canada, the work of reconciliation is a part of the national agenda. Forgiveness is a major step in the work of reconciliation. Other societies and even individuals must also work to achieve forgiveness. This workshop will suggest directions for approaching forgiveness and beginning reconciliation.   
Martin Brokenleg, EdD, and Steve Van Bockern, EdD, Augustana University
Keeping our Children Safe: Creating Cultures of Kindness and Respect
In the first half of this year, at least 22 school shootings have taken place.  How is it that we end this assault on children by children? Professionals and parents have the best opportunities to build healthy and positive cultures that create safety and to provide life-changing experiences that can shape the inner world of youth who must face the real world as it is. Kindness and respect must be taught if we expect it to be learned and lived. The task is how to do that.
JC Chambers, EdD, Stronghold Counseling Services
Enchanted with Chemicals
This workshop will explore how the addict's re-entry into the family system activates anxiety and invites relapse into codependent family function. Multilevel intervention strategies also will be explored and practiced. This workshop emphasizes the participant's development of skills and understanding necessary for addressing issues of substance abuse in family therapy. By examining the techniques used in family therapy, the participant learns how to apply these techniques to substance abuse problems.
Jo Dee Davis, Healing Broken Circles
Robert Foltz, PsyD, The Chicago School of Professional Psychology
Thinking Critically about Psychotropic Medications
Participants will explore some of the basic paradigms that support & challenge the use of psychotropics as an intervention for troubled youth. Neurophysiology of disorders versus how medications "work," genetic foundations for disorders versus epigenetics, neurochemicals versus no demonstrated "chemical imbalances." So given the challenges, with the known risks, what are we accomplishing?
The Use of Psychotropics with Troubled Youth: Overview of the Evidence
In this discussion, Dr. Foltz will explore some of the bigger studies, related to the most commonly used classes of medications (stimulants, antidepressants, antipsychotics) and examine the results, with the known disadvantages, in using these medications with youth.
Mark Freado, MA, Growing Edge Training, and JC Chambers, EdD, Stronghold Counseling
The Art of Kid Whispering
The creators of Kid Whispering describe how understanding what is going on in the Inside Kid helps caregivers decode troubling behavior and begin to replace hostile, resistant encounters with respectful alliances.
Mark Freado, MA, Growing Edge Training, LLC
Three Pillars of Transforming Care
While many trauma trainings are designed for therapists, this workshop provides key knowledge and skills for those who directly interact with hurting children on a daily basis. Participants include parents and foster parents, teachers, child and youth care workers, and other mentors who deal with behavior that is frequently baffling and challenging. Three Pillars of Transforming Care includes practical strategies to enable children to experience safety, connect with a caring adult, and manage internal emotions and impulses.
The Power of Story
Everyone has a story to tell. Everyone needs to tell their story. Sometimes what is missing is someone who will really listen. In our own lives, there are many ways that we can control the narrative of our own story. Many of the hurt young people we encounter in our work have stories told about them. These stories are not their stories but the stories created and told by others. Those stories are told from limited or biased perspectives and are based on narrow experiences. Frequently those stories are negative. As a result, many young people in our organizations, schools, and systems believe they have no voice. It only takes one adult to make a difference--one adult who will listen and help find a forum for the young person's story to be told. It is also likely that when we are that person, our engagement guides the young person in recognizing and discovering his or her story and the strength to reach beyond the pain.

Ben Hebison and Erik Bruner, Wentzville School District
Paving the Road as We Walk It: Creating a Trauma-Sensitive School
This workshop will take you through an alternative school's transformation into a trauma-sensitive school while navigating the policies and restrictions within a public school system. This discussion will include a public school's use of Adverse Childhood Experiences (ACE's) data, child neurodevelopment, and research on childhood trauma and toxic stress to determine highest areas of need and appropriate interventions. The workshop will include a summary of how one alternative school took innovative steps in implementing new and alternative therapies, expressive arts programming, and a whole child approach in order to provide the resources and skills for students with extreme social and emotional needs.
Susan Jones, MA, Special Education
Leaving an Imprint: One Student, One Family at a Time
Scott Larson, DMin, Straight Ahead Ministries
The Essential Role of Pain, Suffering, and Despair in the Transformation Process--Both for Teacher and Student
Relational Connections as the Foundation of the Circle of Courage
Using Action Methods to Make Any Teaching Context More Effective
This session will present 9 proven psychodrama action methods that can be incorporated into any teaching context.
Kendra Lowery, PhD, Ball State University
This Isn't Only For At-Risk Youth: The Challenge of Building a Reclaiming School District                           
Participants in this workshop will read a fictional case study, co-authored with Dr. Larry Brendtro, that asks them to consider the benefits of and processes for integrating a paradigm of reclaiming schools into core district practices. Superintendent Shelly Weiss realizes more education and training is needed about the new code of conduct, created to reduce frequency and racial disproportionality of classroom removal and suspensions. She learns about the philosophy of reclaiming environments, based on respect, student needs, and the development of positive relationships. Although historically implemented in alternative environments for at-risk youth, Supt. Weiss feels this should be district practice for all students. Participants will engage in dialogue based on reflective questions regarding the key principles of reclaiming environments, and how the superintendent might develop a more inclusive plan for training and implementation.
Wade Puryear, United Methodist Family Services
Hip-Hop, Letter Writing, Yoga and Other ways to Make Talking About Trauma Safe in Schools
Leigh Schickendantz, MA, LCPC, and Mark Leitzel, MA, LCPC, co-founders of Two Rivers Consulting
The Embodiment of Peace Matrix©
Join Mark and Leigh for an enlivened discussion and skill-building workshop. Participate in a generative experiential format exploring the transformation of conflict through The Embodiment of Peace Matrix©.
Steve Van Bockern, EdD, Augustana University
Schools that Matter: Teaching Minds, Reaching Hearts™
Many adults in school settings want to refocus their energy and efforts in ways that matter to their students. The race to the top of the academic mountain has done little to support our children in the right ways. Instead of seeing children as data points to be measured and sorted, Schools that Matter focus on the total well-being of the child and the adults who teach and care for children. This workshop will share the "road map" for building places that matter using ideas from Dr. Van Bockern's recently published book, Schools That Matter: Teaching Minds, Reaching Hearts.
Check back soon for more presenters and topics.