We will not be hosting an event this summer, but check back in 2022 for the return of the Reclaiming Youth Seminars!
Meanwhile, make plans to join some of our presenters and many others at the ACRC's 65th Annual Conference, August 3-5, 2021. In-person and online options are available. For more info or to register click here.
Reclaiming Youth Pre-Conference at ACRC's 65th Annual Conference
Cultures of Respect
Larry Brendtro, Anna Brokenleg, Robert Foltz, & Mark Freado
While Indigenous societies rear children in what anthropologist Inge Bolin calls cultures of respect, punitive practices have marked Western child-rearing, education, and treatment. Lakota psychologist Martin Brokenleg notes that traditional Native values of Belonging, Mastery, Independence, and Generosity— called the Circle of Courage—are validated by resilience science. A resurgence of authoritarianism and racial conflict has generated growing calls to restore relationships of respect. This preconference merges Native wisdom with modern research to create environments where all children and families thrive. Presentations explore The Mythology of Race; Sweetgrass People; Sad, Mad, and Medicated; and What's Wrong versus What's Strong.
Click here for more info on each presentation.
Click here for information on the Reclaiming Youth Workshop strand at the ACRC conference.
The Reclaiming Youth Movement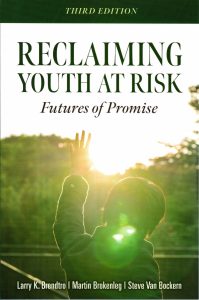 The book Reclaiming Youth at Risk by Augustana University professors Larry K. Brendtro, Martin Brokenleg, and Steve Van Bockern introduced the Circle of Courage medicine wheel showing Native American values of Belonging, Mastery, Independence, and Generosity. Inspired by Indigenous cultures that deeply respect children, these needs are now validated by research on resilience, neuroscience, and youth development.
For twenty-five years, the Black Hills Seminars on Reclaiming Youth have been at the leading edge of strength-based approaches with challenging children and youth. Now this annual conference is in its second year at Augustana University in Sioux Falls where the Reclaiming Youth movement originated.
These seminars are sponsored by Reclaiming Youth at Risk, a non-profit research and professional development organization, in collaboration with Augustana University, the Resilience Academy, Growing Edge Training, Straight Ahead Ministries, and Turtle Island Learning Circle.