Thank you to all who joined us for the 2022 Reclaiming Youth Seminars! We had a great time learning, growing, and networking! Did you miss this year's event? Make plans to join us in 2023!
The 2023 Reclaiming Youth Seminars will be held July 20-22, at Augustana University in Sioux Falls, South Dakota! The pre-conference trainings will take place July 17-19. All sessions run from 8:30 AM to 4:30 PM daily.
Stay tuned for more info!
The Reclaiming Youth Movement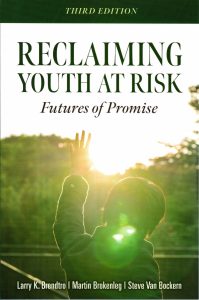 The book Reclaiming Youth at Risk by Augustana University professors Larry K. Brendtro, Martin Brokenleg, and Steve Van Bockern introduced the Circle of Courage medicine wheel showing Native American values of Belonging, Mastery, Independence, and Generosity. Inspired by Indigenous cultures that deeply respect children, these needs are now validated by research on resilience, neuroscience, and youth development.
For twenty-five years, the Black Hills Seminars on Reclaiming Youth have been at the leading edge of strength-based approaches with challenging children and youth. Now this annual conference is in its second year at Augustana University in Sioux Falls where the Reclaiming Youth movement originated.
These seminars are sponsored by Reclaiming Youth at Risk, a non-profit research and professional development organization, in collaboration with Augustana University, the Resilience Academy, Growing Edge Training, Straight Ahead Ministries, and Turtle Island Learning Circle.