Larry Brendtro, Martin Brokenleg, and Steve Van Bockern, authors of Reclaiming Youth at Risk, and Mark Freado, a leader in the reclaiming youth movement, invite you to join them at the Reclaiming Youth Seminars, July 20-22, 2023! The 2023 seminars will be held July 20-22, at Augustana University in Sioux Falls, South Dakota! The pre-conference trainings will take place July 17-19. All sessions run from 8:30 AM to 4:30 PM daily.
Network with colleagues from all over the world to share ideas, learn new skills, inform, inspire, and re-energize. Grounded in resilience research showing that inner strengths and external supports are essential for positive youth development, the Reclaiming Youth Seminars offer practical skills for success with our most challenging children and youth.
Explore timely topics including:
Trauma, Resilience, and Thriving
Social and Emotional Learning in Classrooms and Schools
Strength-Based Treatment with Children and Families
Positive Climates in Residential Care and Juvenile Justice
Reclaiming Wisdom of Indigenous Cultures
Preconference trainings are also available:
Respectful Alliances (3-day training), July 17-19, is facilitated by Larry Brendtro and Beate Kreisle and offers condensed training in both Response Ability Pathways and Positive Peer Culture.
OR
Reclaiming Youth at Risk (2-day training), July 18-19, is facilitated by Mark Freado. Participants will gain essential knowledge and skills for working with all children and youth, including those most vulnerable.
To register by check or purchase order or to register a group, contact Wendy at [email protected] or 605.906.4694.
The Reclaiming Youth Movement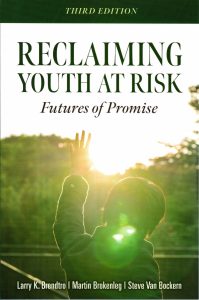 The book Reclaiming Youth at Risk by Augustana University professors Larry K. Brendtro, Martin Brokenleg, and Steve Van Bockern introduced the Circle of Courage medicine wheel showing Native American values of Belonging, Mastery, Independence, and Generosity. Inspired by Indigenous cultures that deeply respect children, these needs are now validated by research on resilience, neuroscience, and youth development.
For twenty-five years, the Black Hills Seminars on Reclaiming Youth have been at the leading edge of strength-based approaches with challenging children and youth. Now this annual conference is in its second year at Augustana University in Sioux Falls where the Reclaiming Youth movement originated.
These seminars are sponsored by Reclaiming Youth at Risk, a non-profit research and professional development organization, in collaboration with Augustana University, the Resilience Academy, Growing Edge Training, Straight Ahead Ministries, and Turtle Island Learning Circle.